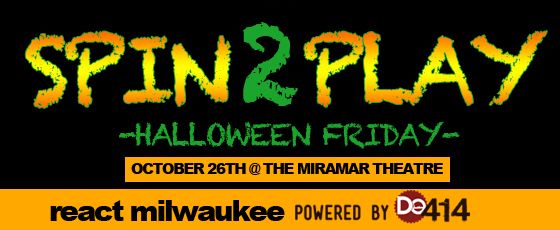 "SPIN-2-PLAY @ THE MIRAMAR THEATRE ALONGSIDE UK DRUM&BASS LEGEND - HIGH CONTRAST
Here is your chance to compete to WIN an opening DJ spot for High Contrast on October 26th at The Miramar Theatre, Milwaukee.
CONTEST RULES:
-Submit a 15-20min mini-mix
-Must contain at least 5 tracks and must provide a tracklist
-Must contain at least 2 sub-genres of electronic music
Winner will be selected based on creativity, unique track selection, technical ability, and overall "likes" on the DO414 contest page. Keep in mind, we are looking for an OPENING DJ for HIGHT CONTRAST. We are looking for someone who can adequately "set-up" the headliner and get the party started!! We are NOT looking for DJs to bang out massive bass music releases… thats what the headliner is here for. Be creative ... tons of Drum&Bass will NOT win this contest. We want to see something unique
DJs must upload your mini-mix to DO414 HERE
http://do414.com/spin2playhalloweenfriday/entry/new

WINNING THE CONTEST:
-Mixes MUST be posted on the DO414 contest page
-Post your Do414 entry on your FB page & social media pages and encourage your friends do vote for you on DO414
-The 2 DJs who receive the most "likes" on DO414 will each win a 45min slot at The Miramar Theatre on October 26th
DJs who promote their mix, promote this contest, and get a solid response on their Facebook pages will have a better chance of winning!
Milwaukee
Halloween Friday Contest Mix
Mayville, WI
React Presents DJ Contest Mix
Milwaukee
Milwaukee
Do414 React Halloween Mix
Milwaukee
Milwaukee
Milwaukee, WI
High Contrast contest mini mix
Milwaukee, WI
DECONTROL-Sub:Version! (Fall 2012 Mix) **REACT CLIP** Tracklist: Noisia- Diplodocus (Kill the Noise Rmx) (mau5trap) Birdy Nam Nam- Goin' In (Skrillex Goin' Hard Mix) (OWSLA) Nicky Romero- Toulouse (Knuckle Children & VRAKAZ Bootleg) (FREE DOWNLOAD!)
Chicago
Chicago
Trap Nation Nozicka Mini Mix
Milwaukee WI